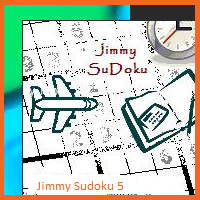 Please don't think of it as a hundred dollar app.  Think of it as a free app with the option to support an important cause.
Sometimes when things get "comfortable", it becomes necessary to shake things up.
Such is the case with my hobby/charity project, Jimmy Sudoku.  
Previously, Jimmy Sudoku had two listings in the Windows Phone app marketplace… one as a free international listing, and once as a paid, US-only listing.  Both were the same exact binaries.
I've deprecated the paid US listing, and, in its place set up the single remaining international listing as free trial with the option to buy.  
Expecting to raise more awareness for the cause than direct proceeds, I've set the price to… something that will raise eyebrows.   This will take effect as soon as the WP App Marketplace approves the change.
There is no functional difference between the free trial and the paid mode… the app does not even check to see if you bought it, at this point.
Again, 100% of the proceeds from Jimmy Sudoku 5 purchases will continue to go to #NoKidHungry…  again, the app itself is free.  If you choose to pay what I'm asking, the proceeds will be donated. 
If you decide to go directly to the charity and donate to them, I've still accomplished what I'm hoping to do with the app.