For cable TV customers, there's something oddly familiar about the idea of channel providers.  Trading off television channels by switching cable TV providers has long been commonplace in regions where there's more than one cable TV provider, and long been the envy of those who don't live in such regions.  If Time-Warner wants to cut off CBS over contract issues, and you live in a place where you only have Time-Warner, you don't get your NCIS fix.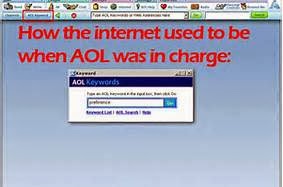 Flashback to a couple decades ago…  America Online, GEnie, and CompuServe WERE the "Internet".  If you wanted IN on the "online craze" you had to go to one or more of these companies and buy your seat at their table.  Companies didn't advertise their web URLs.  They advertised their AOL keywords.  CompuServe had great educational content providers, but AOL was king of chat at a time when chat was king.  Most companies flocked to AOL as a result, and so AOL wasn't just an ISP, it was THE digital content channel provider.
The channel model died with the rise in popularity of the Internet.   Suddenly, all you needed to connect content to customers was the same thing that everyone needed.  A connection.  Thanks to a convention called "Net Neutrality", the channel model built by services such as AOL & CompuServe were walls that were knocked down.  Your connection was every "channel", simultaneously, all the time, with no bundling.  As a business, wanting to publish and contribute your content as a channel, you had only to invest in your own connection, and a little technical infrastructure, and you were in.
Facebook has taken serious shots at bringing the channel model back.  If you want to play certain online games or see some online content, you must join Facebook… and content/gaming providers who want to participate in that must come to agreements with Facebook, of course. 
Yet, with the breakdown of Net Neutrality, the pendulum is swinging solidly back to the channel provider model.  Your ISP now has the right to decide what traffic they carry over their networks and/or throttle performance from different content significantly…  if they want to cut back on Netflix… they can.  If they want to nix Google services, whatever.
Clearly this happened almost instantly with recent judicial rulings…  The jinni is already out of the bottle.  Verizon has decided to effectively drop the "Netflix channel" by cutting Netflix' bandwidth down to reportedly unusable levels.  This means if you're on Verizon and were using Netflix, you either have to find a new video streaming service, or you have to find a new channel service provider. 
How long will it be before this impacts every Internet service provider (and even cellular network providers, since VOIP services are reducing them to ISPs as well)?  
Here's some fictitious quotes from a not so hard to see future (roughly within the next decade):
"I left Verizon for Time-Warner because Verizon charges too much for the Office 365 and Facebook channels.  Comcast is tempting, though, because they have Google Hangouts and enhanced YouTube in their HD package." 
"I wish Verizon had the same educational channels as T-Mobile or Sprint, though, cause my kids could use that for school."  
"Thankfully my channel provider and my folks across the country both have enhanced Skype.  I can't Skype my sister at all, though."
"I had to switch banks when I switched carriers.  AT&T hasn't come to an agreement with my old bank, so I couldn't use their online services."
"Amazon's gone bust since they failed to become a viable channel provider, and every other channel provider decided to compete against them."
"Google is the new AOL.  Most folks can't even get online except thru Google Fiber. Your business does not have an online presence unless it's thru them.  It's too bad your competitors already have exclusive agreements with them."
ISPs love this, because as cable TV providers will tell you, there's a lot of pricing power in being a channel provider, but not so much is being a connection provider. 
Businesses will struggle with this, however, because getting your website on the Internet will become a much more complicated proposition.  Sure, you'll be able to get online the same, but your content won't be carried the same.   Essentially, small business content will be at the whim of "local access channels" provided by each channel provider.  They'll all have their own rules and regulations, and even more importantly, their own fees.  Is your audience growing?  You'll have to hammer out deals with each channel provider to make sure your content gets to all your customers.
Further, how long will it be before we start having a resurgence in custom network interface hardware to the point of ending Wi-Fi and Ethernet as we know it?  We've already seen netbooks and tablets that have wireless Internet service tied to specific cellular carriers.  I'd be willing to bet that as channel providers gain hold and start to flex their newfound muscles, a breakdown in connectivity standards will take hold.